How should destinations plan to reopen and recover in 2021? Now, more than ever, it is the time for destinations to work together, to be creative and resourceful to create destination marketing campaigns that offer reassurance, escape, wellness and that little bit of magic.
2020 was without doubt the most challenging year globally for the tourism industry. Time and again restrictions changed, market sentiments changed and this resilient industry was tested to its limits.
Despite the pandemic, we were lucky this year to work with a number of destinations on their destination marketing campaigns during 2020. At the heart of all of these campaigns, we focus on the core pillars of sustainability, community collaboration and place-making.
In this article, we offer our top tips for creating destination marketing campaigns that work. We highlight some of the great destinations we have worked with and also shine a light on some of those international campaigns that have inspired us.
Top Tips For Great Destination Marketing Campaigns
Define Your Customer Segments:
In the last twelve months, the need for freedom, space, family-time and safety have been the top need-states for people in choosing their holiday destination.
For 2021 it feels like we are getting closer to being able to dream of unconstrained travelling again.
However, for the moment, it is prudent to mostly plan for the domestic market. We still have a way to go before international travel will resume to pre-COVID levels and even when a vaccine is widely available, there will be many people who will not yet feel comfortable to deal with airports and international travel.
Therefore, while it's important to appeal to an international audience, the prudent destinations will plan the spring-summer campaigns around the domestic market.
For those hoping to boost their destinations shoulder season with a spring campaign, your customer segments should focus on families and 'unconstrained adults'. (See more on Fáilte Ireland's domestic customer segments here)
Work On Your Why
Set your SMART objectives: how will you measure success for this campaign?
What are you offering your target customer segments that will convert into new visitors, brand awareness, PR mentions?
Plan For All Stages Of Customer-Decision Journey
Many content campaigns focus on creating brand awareness but then forget that on the customer journey your customer passes through many more stages.
In the marketing world, this often consists of Awareness – Consideration – Conversion – Loyalty – Advocacy.
However, we prefer Google's outline of the "micro-moments" that exist in travel:
I-want-to-get-away moments (dreaming moments)
Time-to-make-a-plan moments (planning moments)
Let's-book-it moments (booking moments)
Can't-wait-to-explore moments (experiencing moments)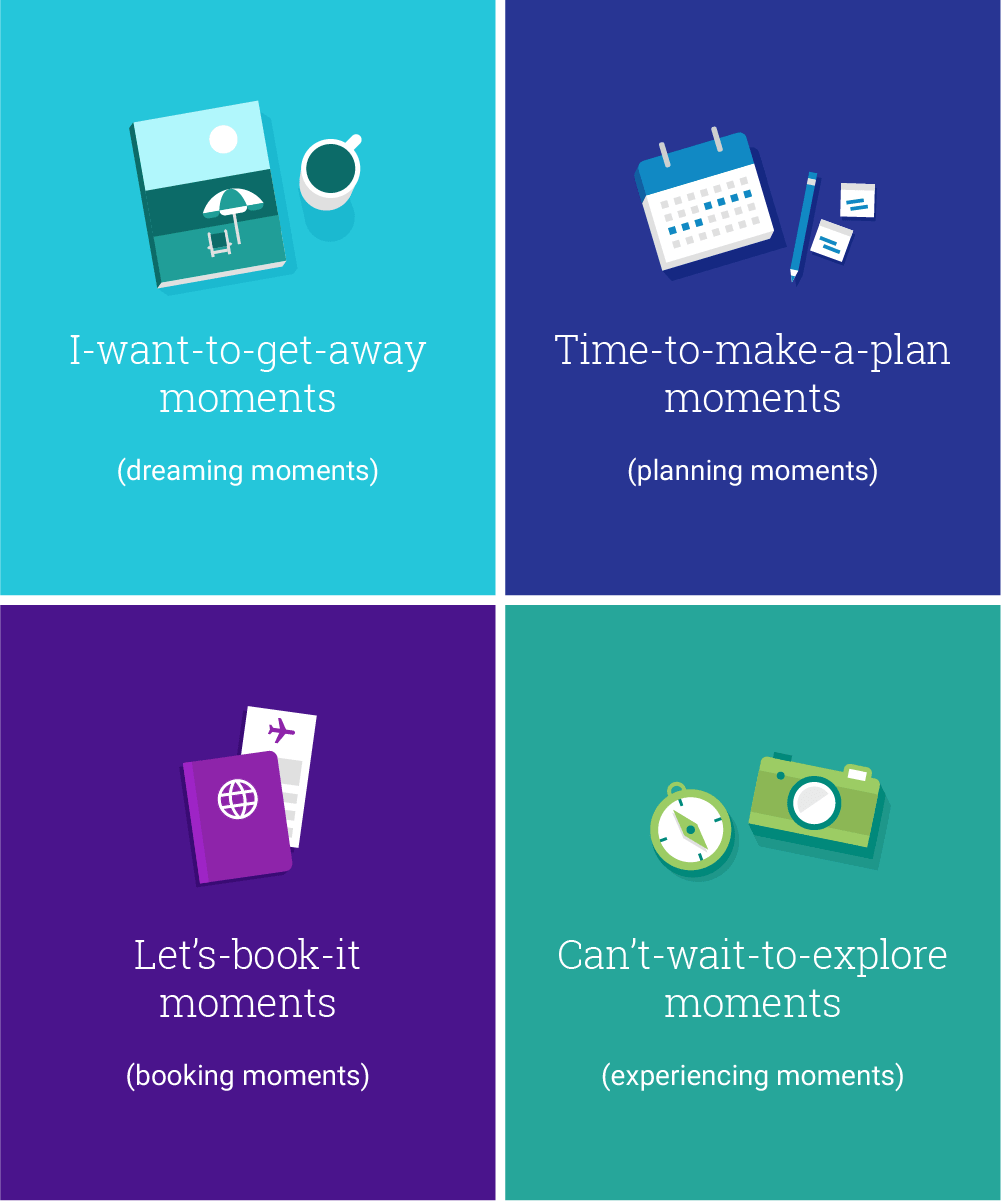 People don't act on every inspiration. Each traveller has underlying needs that vary by trip. When a destination shows it can meet those needs, people usually respond by taking an action. While needs can be emotional or functional, they're the considerations that matter most to each traveller — often more than price. 
Bake In Creative:
Your destination needs to come up with a great creative destination idea with digital baked-in.
What is that something special, magical, perfectly suited to your target customer's needs that other destinations can't deliver? Once you know this, create an idea and a campaign around it. 
Make sure your hook can be clearly messaged to share online using photography, videos, pieces of content etc.
Co-Create With The Community

The most successful destination marketing campaigns require more than just a tourism officer or destination marketing organisation (DMO) to drive its success. Key to the success of a destination is true community consultation and engagement.
If you promote a destination already suffering from over-tourism, visitors to the destination will not enjoy the warm welcome and experience they need to become advocates for your destination and want to visit again.
Communication is key; consult with the community and not just the tourism businesses. What impact will more visitors to your destination have on the locals who live there?
Responsible tourism consultant Cillian Murphy outlines in his 'Developing a co-created, asset-based, sustainable destination' piece here how to plan for community consultation,
"Forward thinking communities, like those of us on the Loop Head Peninsula and leaders such as Ann Heidi Hansen and Hanne Lykkja in Nordland Co Co who care for the Lofoten Islands, have looked at what is happening elsewhere and decided the best, and most effective, way to manage an overcrowded site is by planning for it not to happen in the 1st place."
Collaboration Is Key At Destination Level
Following on from the community engagement piece, the other key element of destination marketing is cross-collaboration between providers:
Do you have accommodation partners who can link in with food and activity providers to create packages that will engage your customer segments?
Are there non-traditional/non-commercial tourism partners who can get involved with our campaign e.g. retailers, local authority parks and wildlife etc.?
Great Examples of Destination Collaboration:
In our recent 'Wellness October' campaign with EDEN Award-Winning destination Strandhill, Co Sligo, local tourism businesses offered a number of wellness tourism packages e.g. Strandhill Lodge & Suites had a 'Body & Soul' package with the local VOYA seaweed baths.
International examples: Fjord Norway and Visit Cornwall
Deliver Great Content & Storytelling
Do you have a content plan for your campaign? Great pieces of content can be used and re-used (evergreen content) e.g. Top 10 Things to do in Wexford for families.
Caroline Bean, Director of Social Media at Visit Philadelphia describes content as the lifeblood of her organization's marketing:
"We have always invested in content. If our budget was cut so much tomorrow that I could never afford another Facebook app or something fancy, and the choice was between photography for the year or some special work, I would choose photography because that makes our everyday work so much easier."
What makes for great content?
Make your visual content marketing reflect your destination's aesthetics and character, make it compelling, and make it worth remembering. This will infuse everything you do.
Large, good quality photos – target what people are searching for. (refer to Ian's SEO / keyword research presentation)
Diversity of content that they constantly experiment with: Visit Philadelphia runs round-ups, guides, lists, maps, news, accolades, and articles that are timely or play into pop culture.
Repurposing the most successful content in multiple ways.
Create A Dedicated Offers Section:
You need to make your destination bookable; your destination website should have an offers section which highlights the various packages available for each customer segment, seasonal offers etc. to drive direct conversions to your destination via dedicated offers.
Double down on Instagram:
Set a hashtag for your destination, market it, monitor it, and share the really high-quality visuals that are selling your destination at no cost to you.
For example in choosing your campaign #hashtag are there are great 'grammable places in your destination that will increase shareability?
We worked on a campaign for Strandhill, Co Sligo targeting pre-teen families identified families whose main need-state was the family connection and making memories.
The #StrandhillMoments campaign was created to encourage families to spend time together in Strandhill enjoying the best of outdoor activities, food, accommodation and visitor attractions the destination had to offer. This was amplified through the use of a family video, photography, an influencer fam trip and key family content pieces on gostrandhill.com
Local Ambassador Outreach
There are 'go-to' people in every town in the country who know everyone and are at the heart of everything that happens in the town.
There are also local people who are heavily active on social media.
Those people are your local ambassadors. They can help you spread the word about your business. When visitors search the web and social media, they will find content from these people and discover your business.
Reach out to them as you create your campaign and again at launch to get them involved and sharing your content.
We hope you have found some useful tips here on the key ingredients in a destination marketing campaign. To see more of our destination marketing client campaigns visit here.